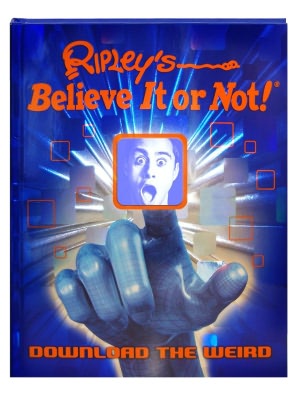 Book: Download the Weird
ISBN-13: 978-1609910327
Series: Ripley's Believe It or Not!
Publisher: Ripley Publishing
Genre: Non-Fiction / Trivia
Release: September 11, 2012
Length: 256 pages (Hardcover)
Verdict
Download the Weird is possibly Ripley's most cringe-inspiring book of trivia yet. The gross-out factor alone is sure to make this book a hit with kids. It's also likely to be a hit for trivia buffs and internet forum addicts looking to get their Twitter-portioned entertainment offline. Perfect for break rooms, coffee tables, and bathrooms.
Synopsis
Official: For the legions of dedicated Ripley's fans, and anyone else on the planet who loves the unbelievable, the latest annual in our bestselling series is a feast of delights. As well as the jaw-dropping images and strange facts, we present intriguing interviews with some of the astounding individuals who feature in the book, and informative "Ripley's Research" boxes that give the scientific explanation behind some of the most incredible tales. In addition, there are fascinating black and white photos from the Ripley archive, numerous lists, and a brand new Ripley's Weird Records feature.
Review
It's that time of year again. The leaves are turning colors, kids are returning to school, and Ripley's has just released yet another monstrous collection of cringe-worthy trivia.
The bright blue foil cover and holographic cover of Ripley's Believe It or Not! Download the Weird perfectly sets the tone for this colorful volume of bizarre trivia.
For over two hundred pages, Ripley's bombards readers with fascinating and grizzly photos and anecdotes of amazing feats, the likes of which would normally only be found buried deep amid the flotsam of the internet's most popular image boards. Every turn of the page sends the eyes leaping in a new direction in a way that would be exhausting if it weren't for the entrancing "car wreck effect" involved.
The "car wreck effect," in case you've never picked up a Ripley's collection, is that sensation of not being able to look away from a scene despite the inherent gross-out factor of what you're seeing, and it's what has made Ripley's Believe It or Not the franchise of choice for boys of all ages for nearly century. Each Ripley's collections is like a portable carnie side-show, or, more flatteringly, like a pre-teen boy's version of National Geographic. Yes, the collection contains some photos that are certain to make most people wince, but it also opens a window onto a fascinating wider world of lifestyles.
This book is a lot of fun without a lot of thought, and it's sure to be enjoyed by kids and the young at heart, not to mention trivia enthusiasts!
Disclaimer
The folks at Ripley Entertainment sent The Great Geek Manual a copy of an advance review copy of Download the Weird at no cost. We extend our sincere thanks to them. However, the free copy did not influence the opinion of this reviewer.
Further Information