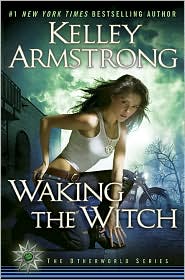 Book: Waking the Witch
ISBN-13: 978-0525951780
Author: Kelley Armstrong
Series: Women of the Otherworld Series, Book 11
Publisher: Dutton Adult
Genre: Urban Fantasy
Release: July 27, 2010
Length: 320 pages (Hardcover)
Rating: C- (65 / 100)
Verdict
It may be the eleventh book in the Women of the Otherworld series, but Waking The Witch is satisying read that stands well on its own. Kelley Armstrong has broken the urban fantasy mold with a novel that features both an intelligent mystery and a kick-ass female protagonist who doesn't constantly find herself embroiled in situations beyond her control, doesn't need rescuing, and (most refreshing) doesn't obsess over men. Free of both negative female stereotypes and gushing romances, Waking The Witch is a solid blend of fantasy and detective novel that both male and female readers will enjoy.
Pros: Excellent characters. Very solid mystery. Refreshingly little romance.

Cons: Unsatisfying magical showdown. Villainous plan turns out to be uber-weak. Bad cliffhanger.
Synopsis
In Brief: Savannah strikes out on her own with her first case as a private investigator, but what at first appears to be three ritual sacrifices rapidly becomes more complex as she peals away layers of history in a small town.
Official: The orphaned daughter of a sorcerer and a half-demon, Savannah is a terrifyingly powerful young witch who has never been able to resist the chance to throw her magical weight around. But at 21 she knows she needs to grow up and prove to her guardians, Paige and Lucas, that she can be a responsible member of their supernatural detective agency. So she jumps at the chance to fly solo, investigating the mysterious deaths of three young women in a nearby factory town as a favour to one of the agency's associates. At first glance, the murders look garden-variety human, but on closer inspection signs point to otherworldly stakes.
Soon Savannah is in over her head. She's run off the road and nearly killed, haunted by a mystery stalker, and freaked out when the brother of one of the dead women is murdered when he tries to investigate the crime. To complicate things, something weird is happening to her powers. Pitted against shamans, demons, a voodoo-inflected cult and garden-variety goons, Savannah has to fight to ensure her first case isn't her last. And she also has to ask for help, perhaps the hardest lesson she's ever had to learn.
Review
Kelley Armstrong writes strong female protagonists better than nearly any other author in contemporary fantasy. Unlike many other female protagonist of the genre, Armstrong's heroines are not victims of circumstance waiting for their white knight to ride in and save the day. They don't endlessly pine for men they can never be with, and they don't gush over their soulmates. They carry guns, fix cars, and ride motorcycles. The fact that they also happen to be witches or werewolves hasn't transformed them into drama queens. That distinguishes Armstrong from many other leading authors of the genre, who have so blurred the line between paranormal romance and contemporary fantasy as to make female protagonist synonymous with romance. She has consistently written strong female characters relatable to both male and female audiences, and Waking the Witch is no exception.
This novel follows Savannah Levine, the orphan of two dark practitioners who is determined to make her name as a detective on her own and isn't afraid to cross a few lines to do it. Just turned twenty-one, Savannah is a confident, slightly sassy and immanently likable character who pulls readers into the story from page one. Her big break comes in the form of three bodies laid out in what appears to be a ritual sacrifice. In order to investigate, she has to peel back the layers of a small town populated by a rich cast of well-rounded characters. The sheriff suspects the town's richest man, a drug dealer with a hot temper, but Savannah soon comes to suspect a cookie-peddling cult living on the outskirts of town. Just as our girl friday begins to make progress, though, more people begin to die. Suddenly, she's not sure if the murders are crimes of convenience or black magic.
Waking the Witch is an engrossing mystery novel that generally uses magic in the way other mystery novels incorporate gadgets into their story. The magic is a bag of tricks, but, right up to the climax, it isn't the point of the novel. That's fortunate as, despite excellent characterizations, the Women of the Otherworld series doesn't introduce any new innovations to the urban fantasy genre. Armstrong's world of easy magic hidden in plain sight amidst the contemporary world follows the same stale formula used across the genre. It's disheartening and a bit boring, which is why the shift in focus from magic to mystery in Waking the Witch makes it the best entry in the series to date.
The story's pacing is excellent, seamlessly mixing detective and fantasy elements while still keeping readers guessing as to whether the villain will turn out to be magic or mundane in the final reel. The mystery at the heart of the novel proceeds apace, without dwelling over long on the procedural elements of crime solving, and Armstrong manages to spring several surprisingly twists on readers along the way.
The story's single larges shortcoming is that, when the inevitable magical showdown between good and evil comes – as it must in all urban fantasy novels, the confrontation rings hollow. The climactic confrontation that concludes the secondary plot that slowly evolves through the course of the book comes out of left field and promptly falls flat, failing to provide any emotional impact. All in all, if Armstrong hadn't tried to hijack her own mystery with a magical story arc, the book would have been much more memorable.
That's not to say that Waking the Witch disappoints. In fact, the book's final twist turns out to be emotionally gut-wrenching, leaving readers to expect even better things from future Women of the OtherWorld series.
Note
If you're not familiar with this series, don't worry. Waking the Witch is a great starting point. Characters are each introduced in turn, and the protagonist's backstory is covered in very short order.
Similar Books
If you enjoy this book, you may also enjoy these similar titles:
Further Information