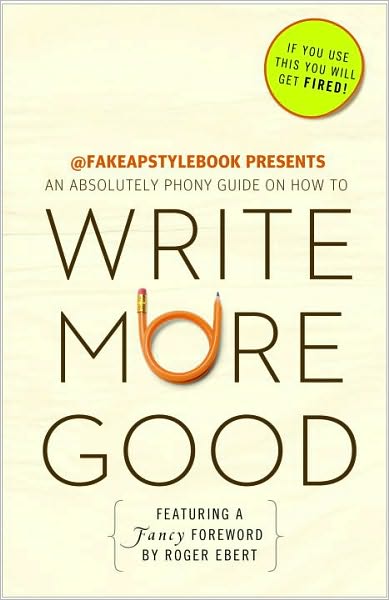 Book: Write More Good: An Absolutely Phony Guide
ISBN-13: 978-0307719584
Author: The Bureau Chiefs
Publisher: Three Rivers Press
Genre: Humor
Release: April 5, 2011
Length: 272 pages (Paperback)
Rating: B+ (90 / 100)
Verdict
The perfect book for a blogger to celebrate April Fool's Day with. Written in a style that will feel very familiar to fans of The Daily Show and The Colbert Report, Write More Good is a modern day Devil's Dictionary for the internet generation.
Pros: 90 percent original material. Hilarious from beginning to end.

Cons: Poses a huge distraction to getting anything done for about three days following purchase.
Synopsis
In Brief: An eclectic parody of the AP Style book organized into short chunks suitable for consumption by the A.D.D.-addled Twitter generation. Covers every topic of interest to modern journalists from attributions to weapons and the military. Also include multiple glossaries. (In fact, they're the best part.)
Official: Still clinging to your dog-eared dictionary? So attached to The Elements of Style that you named your rabbits Strunk and White? Maybe you're a beleaguered reporter, or a type-A newspaper reader who unwinds by e-mailing the editor about whether "tweet" is a verb?
It's time to face up to reality: Writing clearly, checking facts, and correcting typos are dying arts. Whether you're a jaded producer of media or a nitpicking consumer of it, this book will help you to embrace, not resist, the lowering of standards for the written word!
Part dictionary, part journalism textbook, part grammar and writing manual, Write More Good is a "comprehensive" "guide" to today's "media," in all its ambulance-chasing, story-fabricating, money-hemorrhaging glory. (LEGAL DISCLAIMER: The authors are not responsible for consequences that may result from actually using this book as a dictionary, textbook, or grammar and writing manual.)
Review
It's hard to know what to say about a book like this. There's no narrative voice to critique. There's no storyline to explain. Write More Good is just two hundred fifty pages of hilarity, like a portable little chunk of the internet. Only, it's got a "Fancy Forward" by Roger Ebert. Just try finding a website with one of those!
In any other case, this would be where I'd normally throw in the towel, not knowing what else to say. Luckily, having Write More Good right here to consult, I know exactly what to say. First, I give the book five stars because I feel guilty and embarrassed about not having heard of these guys until just a few days ago. Then, I pucker up for some proper quote whoring. I say "This is the best book I've read since The Thin Red Line!!!" (You can never use too many exclamation marks.) Also, I explain how reading Write More Good reminds me of the summer I spent with my Grandfather before he died of lung cancer. Now I think of something really bitchy to write. Because that's what a good reviewer does.
Of course, the book isn't just helpful when it comes to reviews. It's chocked full of great advice for journalists of all types.
The book is divided into thirteen chapters and one great piece of advice on religion covering everything from "News & Headline Writing & You & Journalism" to "Media Law: You Are So Screwed." Each chapter starts out with a snide overview of the topic at hand from those veteran writers, The Bureau Chiefs. Then, the chapters slide into Twitter-sized bites of wisdom covering all the "basics" a journalist needs to know before concluding with a fantastic glossary that you should most definitely skip straight to and read first. The glossaries alone would justify buying this book, even if the chapter on how to make "pennies upon pennies of Google AdSense revenue" setting up a blog wasn't going to pay for the book in and of itself.
Want to be an entertainment writer? Become a blogging review quote machine to get free tickets and videos! Sports writer? Get a nickname, pick a stance, and market yourself shamelessly!
Write More Good is the perfect book to leave laying around in places where folks will have a few odd minutes to kill, like the bathroom, the lunchroom, or the office. (But not in that order, please, in case you happen to work with me.) It's sure to entertain writers, news enthusiasts, and meme lovers.
Just remember, if you're fired for following any of the terrible advice in this book, it's not The Bureau Chiefs' fault. There's a disclaimer right there, over the book's barcode.
Excerpts
On MOVIE CRITICISM: "Use a possessive proper noun in the title of a movie remake to convey crushing disappointment (e.g., Tim Burton's Planet of the Apes).

On the definition of GEEK: "Circus performer who bites the heads off of live animals while discussing his H. G. Wells fanfic in excruciating detail. (1907)"

On VIDEOGAME CRITICISM: "Because videogame journalism has only begun to emerge from the nerd ghetto, it is important to strike the correct tome when writing such pieces. Be sure to let the readers know that you are not some basement-dwelling troglodyte by making at least a dozen references per review to your prodigious partying skills, expensive home theater system, or incredible sexual prowess: After fragging the hapless noob into gibs, I turned to my hot blonde wife, Candi, and asked what she thought about the game's frame rate and HD resolution.

On TECHNOLOGY: "If you are "surfing" in "virtual cyberspace" via the "Internet superhighway," please say hello to the movie Hackers for us, and enjoy your vacation in the mid-1990s."

On BOOK REVIEW BLOGS: "Compete in fierce cage matches with other book reviewers for free books, with bonus points for being extra bitchy."

On HACKERS: "Anyone who can do anything at all with anything even vaguely computer related. Should be used only with negative connotations."
Disclaimer
The Great Geek Manual did receive an (unsolicited) advanced reader's copy of Write More Good, compliments of the good folks at Random House. It didn't effect the truthfulness of this review, though.
Similar Books
If you enjoy this book, you may also enjoy these similar titles:
Further Information