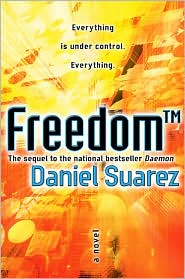 Book: Freedom (TM)
ISBN-13: 978-0525951575
Author: Daniel Suarez
Series: Sequel to Daemon
Publisher: Dutton Adult
Genre: Cyberpunk / Techno-Thriller
Release: January 7, 2010
Length: 416 pages (Hardcover)
Tagline: "Everything is under control. Everything…"
Rating: A- (95/100)
Verdict
After the sheer brilliance of Daniel Suarez's explosive debut, it was inevitable that his second book would fail to live up to it's predecessor, but it's surprisingly just how close Suarez has come to making lightning strike twice.
If possible, Freedom is actually more cerebral than Daemon, drifting away from the spy-thriller themes into the philosophies and economics of a revolutionary war story. The change provides a nice contrast to the first novel, but it does get a bit preachy at points. The result is that, while this book is an as much of an absolute must-read for computer geeks as its predecessor, the non-geek set is likely going to find this book hard to pallet.
Pros: Absolutely stupendous underlying concept. Fast-paced. More tech than a Bond film.

Cons: Cliche villains. Story is too broad in scope. Focus shifts from technology to economics. A touch preachy at time.
Synopsis
In Brief: The botnet set loose at the death of a famous gaming tycoon in the previous book has seized control of corporate networks around the globe. Now, agents recruited by the botnet are launching a second industrial revolution, forming communities with the aim of creating a network of sustainable economies, independent of the decaying capitalist systems of the world around them. But clandestine forces within the government, in collaboration with corrupt corporate interests, are plotting to seize control of the network and turn it to their own purposes.

Official:
In the opening chapters of Freedom(tm), the Daemon is firmly in control, using an expanded network of real-world, dispossessed darknet operatives to tear apart civilization and rebuild it anew. Soon civil war breaks out in the American Midwest, in a brutal wave of violence that becomes known as the Corn Rebellion. Former detective Pete Sebeck, now the Daemon's most powerful-though reluctant-operative, must lead a small band of enlightened humans toward a populist movement designed to protect the new world order. But the private armies of global business are preparing to crush the Daemon once and for all.
In a world of conflicted loyalties, rapidly diminishing human power, and the possibility that anyone can be a spy, what's at stake is nothing less than human freedom's last hope to survive the technology revolution.
Review
In this fascinating follow-up to Daemon, author Daniel Suarez brings his tale of automated revolution to a close, successfully combining video game culture and real-world economic philosophies into a novel that will set both the mind and pulse to racing. Freedom brings the cyberpunk counter-culture of William Gibson and Bruce Sterling into our world, complete with real technologies and economics. From there, Suarez weaves a nearly-plausible tale of a modern industrial revolution co-ordinated by a massive computer network calling itself darknet aimed towards overthrowing big business in favor of a more sustainable economic system. It's the perfect counterpoint to Daemon.
Where Daemon reads like a spy novel, Freedom reads more like a war story. Where Daemon centers around individuals striving to solve mysteries, Freedom follows takes a more global view, following the development of entire communities. Where Daemon explored the possibilities of technologies, Freedom explores the realities of economics. Where Daemon focused on the destructive potential of technology, Freedom imagines the possible constructive aspects of that technology.
Freedom is more up-beat than its predecessor, while still maintaining the edge of suspense that made Daemon such a page-turner. The complimentary nature of the two books is a pleasant surprise.
Freedom looses points in only two regards. First, it is completely dependent on its predecessor to set up its story. It provides absolutely no recap of the events of Daemon, proceeding more like the second half of the book, rather than as a sequel. That's not much of a drawback, but it should be noted by readers that this is not a standalone novel.
The book's only true shortcoming is its occasional forays into preaching about the evils of large corporations at length. Depicting large corporation as malignant, world-dominating engines of capitalism becomes a bit cliche towards the end, flattening the otherwise excellent depth of the narrative into something a little more science fiction than literary.
Despite this fault, Freedom is clearly destined to be a classic of the genre. Not only does it beautifully elaborate on Daemon's underlying concept of a society being built atop the organizational structures of an MMORPG, it even manages to kick the fight scenes up a notch in the process.
I highly recommend this book, as it is certain to become the standard against which all future techno-thrillers are measured. With the release of two titles of such high caliber in such rapid succession, Suarez is well on his way to becoming a literary giant among technology aficionados.
Geeks need to go out and buy this book immediately. A good techno-thriller is just to rare a gem to pass over or postpone. Just don't attempt to read it before reading Daemon. The pair are really one book split into two parts, and, combined, Daemon and Freedom may well be the geekiest works of fiction ever written – that being just about the highest praise I can give a piece of contemporary science fiction.
Just one bit of parting advice: try to ration your reading. Once you finish this book, you're going to regret not making it last longer.
Similar Books
If you enjoy this book, you may also enjoy these similar titles:
Further Information